The Guy Who Sold You, Is NEVER Doing The Work. (The Beginners Are)
See, here's the big racket.
Anyone who is good at what they do, can charge the same prices as agencies. BUT the reason people go into agencies, is because the agency owner funnels clients to them.
If you're good at Facebook ads, but can't do zoom or phone sales, you're screwed because you can't get clients. Which means a lot of beginning freelancers turn to being contractors because it's easy money coming in through the door.
However, there's a MASSIVE shortage of people who are good at advertising. There's an even BIGGER shortage of people who are good, and will work for pennies.
Which means most of the time, your ads are being ran by someone whose second or third language is English.
To be completely honest, at times it was my job to fix the errors the "sub-contractors" wrote in copy. Which is why I was paid the big bucks.
The contractors from the Phillipines, Indonesia, India, China, Singapore…
… those guys charge 200-300 dollars a month.
So, you can charge five clients 2000 dollars a month, pocket ten grand, and then make the guy who is charging you 200 dollars a month do all the work.
10,000 – 200 = 9,800.
Then you pay me another 750, and boom! You're still up 9,050. Client doesn't know the difference.
You ever wonder why agencies don't run ads for themselves? Its because their writers suck, they have almost NOTHING different to offer, and rely on free methods like cold outreach.
They'd much rather pay a VA (Virtual Assistant) a commission on leads because it's cheaper and… they can't run their own ads. But on the off-chance that they do…
Here is what your Agency should be doing for you.
Most of the social proof is fake. (In fact you can get the social proof for free from Facebook groups.
This is The Social Proof Exchange A Facebook Group where you exchange FAKE testimonials.
This is just ONE group you can post in to solicit fake testimonials.
There's probably about 15 I've run into over the years. 
And the reason Agencies do this is because most clients revoke their testimonials after they fire their agency. 
Oh wait. I haven't told you about their turnover rate yet have I?
Most agencies work by having a constant stream of new clients because the turnover rate is INSANE. 
An agency (on average) can keep a client around for about 1-3 months before they fire them. 
So, agency owners, coaches, consultants…
…they post in groups like these to get testimonials on their sales pages.
This is one of the newer groups. You can also buy testimonials from Fiverr and Upwork.
It's awful. Just look at these shenanigans. I swear, half of internet marketers must be sociopaths.
Let me look this up really quick…..  Here is their "About Section"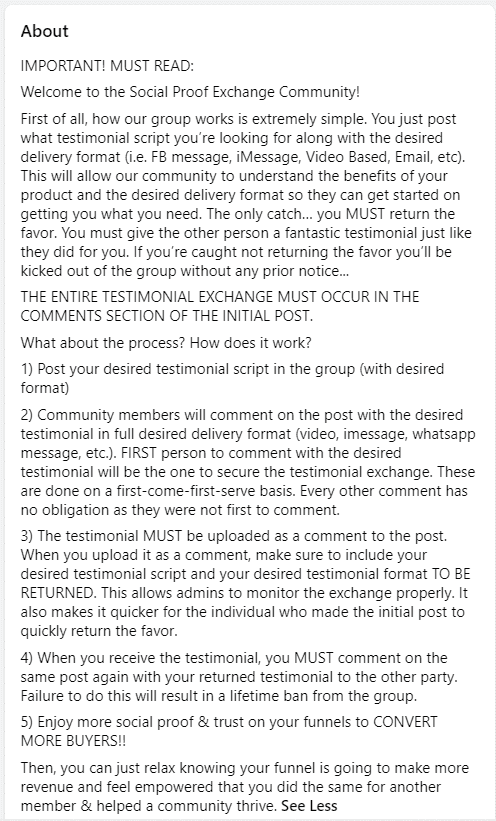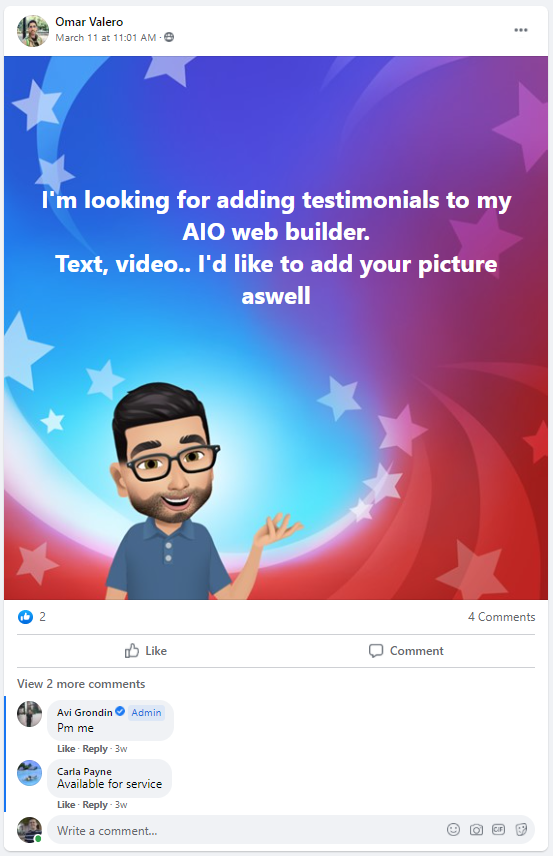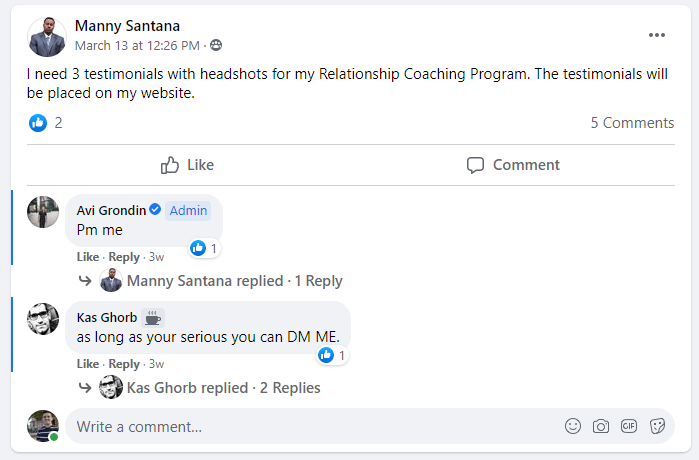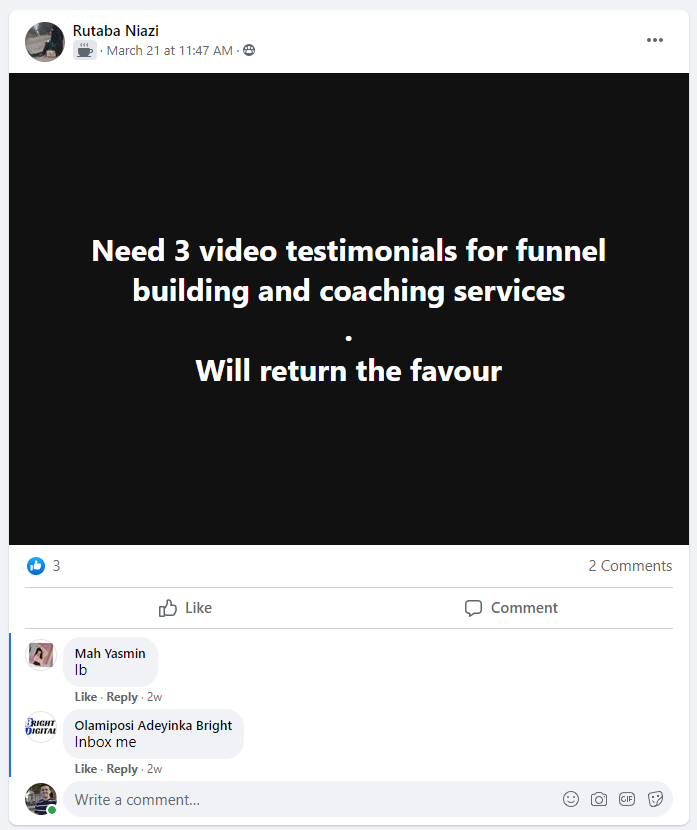 And this is just ONE group I scoured for 10 minutes. Now, let's talk about the real way to know if you're dealing with someone who's the real deal!
You know, because they have to pay for their employee's healthcare… and benefits… and salaries… and only accept people with a degree.
That's why they go after big companies like Coca Cola & Home Depot. They're the only ones who can afford their fees.
In fact, if you do a simple google search…
They charge between 100-300 dollars AN HOUR.
At 10 hours that's 1000 dollars. At 40 hours that 4000 dollars. And if your ad agency is working all month that's 160 hours. (which brings us up to 16,000 dollars MINIMUM.) And that's the bottom of the barrel price.
A real ad agency will hire:
An accounts manager

A copywriter

A graphic designer

A media buyer (PER PLATFORM.) (Which means if you advertise on Facebook and Google that's two separate people.)

A videographer (if needed.)
JUST to do your work!
It's called working in "PODS". And those pods sit underneath a creative director and media director who looks over everything before it goes out.
So you do the math.
For a real agency, you're going to be paying close to 20,000 dollars a month.
The 22 year old "Agency owner" is not going to be the saving grace for a business.
I'm sorry he's just not. That guy just learned how to put on a straight face and lie to get money.
Have You Ever Wondered Why Most "Agencies" Charge Less Than $5,000/m….
Meanwhile

REAL

Agencies Charge A Lot More?

So, Here Is What Your Agency Should Be Doing For You

BibisLatinKitchen.com
Chef Bridget needed a website that would allow customers to place orders, schedule catering and have a growing ability to conduct business. We not only integrated her business systems, we also helped her get about 3000 to 5000 average site visits per month before she spent advertisement money.
JennBaluch.com
Jenn is a food influencer. She needed a website that could reach restaurant owners and show off her trendy TikTok videos and ultimately lead clients right to their door! We helped her get the traffic to her site to do just that!
CreditBoost1.com
Overnight success stories are rare… but in this case, I launched this clients site and immediately put 1,000 visitors to it within 30 days. While it is a credit repair company and not a restaurant, my point is I can do this for your website too!
A journey of lessons
So.. How Did I end Up Getting Sucked Into This?
After being injured during my military service, I was medically discharged from the Army, and decided that I needed a more "office" related job.
Being able to use my brain instead of hard labor in the kitchen, I knew I would find peace in doing work just like I am doing today!
In my early days working for an agency, the workload was ridiculous. I was away from my young growing family. My marriage was unsteady at best and there was a growing pile of task oriented work that was all my responsibility.
I got to a point where I realized I needed the company to hire more individuals around me as a team. And decided to ask for just that.
This did not make them happy, and ultimately led to me separating and finishing my educational journey which landed me here, running my own consulting company. 
I will NOT repeat the same mistakes again. I recommend you don't either.
So if you're going to do business with an agency, use EXTREME caution. Results can be faked too.
Actually, while I'm thinking about it, here's something else you should know.
They will steal results from freelancers and use them to make sales. Sometimes they're stolen from freelancers who don't even work there, or applied to work there but didn't get hired.
It's the biggest scam in the world.
So, like I said, be very careful,
Chris Lengyel